Event Information
Baker Trail UltraChallenge 2014
Overview
The tenth annual Baker Trail UltraChallenge will take place on Saturday August 23, 2014.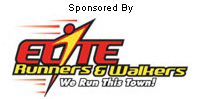 The UltraChallenge is a 50-mile ultramarathon on the Baker Trail. Unlike the Rachel Carson Trail Challenge, this is a footrace; the "challenge" is for you or your relay team to win, or at least finish in 14 hours or less! This year, the UltraChallenge starts at the northern trailhead in Forest County at 6:30 AM. Runners will follow the Baker Trail south for 40 miles to Summerville, then turn east to Brookville and end at the Brookville YMCA. The deadline for finishing is 8:30 PM.
Participant Information
Important event details and other information for participants is here.
Shirts & Awards
Individual registrants will receive a long-sleeve technical fiber shirt. All relay team members will receive a short-sleeve t-shirt.
All individual finishers will receive the first piece of a unique three-piece medal (a different piece will be awarded in each of the subsequent two years for the central and southern sections). All relay team members will receive a special relay medal. Trophies will be awarded for:
First, second, and third place male, female, and overall finishers
First place Masters (age 40+) male, female, and overall finishers
First place relay team male, female, coed, and overall finishers
Registration
Register here.
Lodging
These hotels are all within a few minutes drive of the YMCA.
Volunteers
The UltraChallenge needs volunteers! We will need people throughout the day, from morning registration to aid stations along the course, and the finish. People can volunteer for as few as two hours. If you'd like to help out, review and sign up on the Volunteer Roles and Responsibilities page. What's in it for a volunteer? As a thank-you, all volunteers receive a coveted Marshal t-shirt and the gratitude of many strangers!