Embark on the 100 Mile Quest!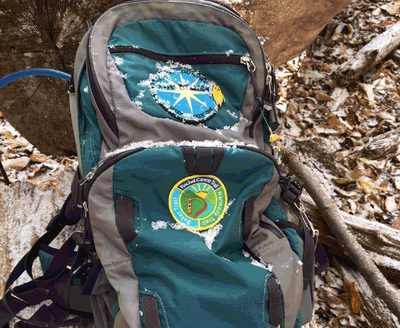 Commit to hike a total of 100 miles on Conservancy trails (the Rachel Carson Trail, the Baker Trail, and/or the Harmony Trail) within 365 days from today and earn a cool, colorful RCTC 100 Mile patch and certificate! You can hike any of these trails any number of times to accrue miles. Even better, participation in the Rachel Carson Trail Challenge, as well as the Baker Trail UltraChallenge, and any of our training and orientation hikes (posted on the Events page) will count towards your mileage total! It's not required, though, and you can hike on your own schedule, at your own pace, on all three trails or just one. It's up to you!
Fill out the form below to register your participation. You can include up to four other people who will accompany you, and each will also receive a patch and certificate when you all complete the Quest!
A printable hiking log you can use to record your miles is available in PDF or MS Word format. When you complete your quest, email us! (And don't forget to include your mailing address for your patch!)
Quest Registration