Many Trails, One Community
Expanding the trail network in Western Pennsylvania
Many Trails, One Community is a forward-thinking collaboration to build and enhance a world-class network of community trails throughout Western Pennsylvania.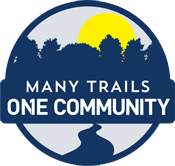 The program builds on the RCTC's tradition of hikers creating partnerships to connect destinations and assets with walkable routes. The vision is a trail circuit utilizing the North Country, the Baker, the Rachel Carson and Harmony Trails with spurs to bring nature and calm closer to more communities and create a world-class trail network and destination attraction.
Many Trails, One Community seeks to connect hikers with nature, connect local communities to a larger audience, and connect people to something larger than themselves. The program will start with a focus on closing gaps in the circuit and developing spurs from the Rachel Carson Trail.
Current target areas are:
Hartwood Acres to the Allegheny River (Indiana, O'Hara and Fox Chapel Townships)
Rachel Carson to Baker Trail Connection (Harrison, South Buffalo, Allegheny Townships)
Harmony Trail north (Pine, Marshall, Cranberry, Jackson, Adams Townships)
Allegheny Valley and Plum Creek Greenway (Harmar, Oakmont, Verona, Plum, Penn Hills)
The RCTC is alert to additional opportunities and our members may be aware of even more, but these four projects are manageable and achievable.
Whether you're a property owner, a hiker, a steward of the outdoors, a local business, or an active family, Many Trails, One Community has a trail or a group that needs you. For more information or to join a working group please contact the RCTC Trail Development Program manager John Stephen at john.stephen@rachelcarsontrails.org or 412-606-7149.