Participant Information
Baker Trail UltraChallenge 2014
Check-In
The UltraChallenge will take place rain or shine. All participants must check in at the Brookville YMCA between 3:45 AM and 4:45 AM on Saturday, August 23 where you will receive your race packet and ID tag. You may also check in on Friday evening between 5 PM and 8 PM. Please pin the tag on your right side at waist level so it can be scanned at each Checkpoint. You are responsible for ensuring your tag is properly scanned!
Starting
The shuttle bus will depart from the YMCA at 5:00 AM to take the individual participants and first leg relay team members to the trailhead where their tags will be scanned just prior to a group start. All participants must take the shuttle bus or be dropped off; there is no parking at the trailhead.
Aid Stations and Checkpoints
There are 11 aid stations along the course providing water, Gatorade, gels, PB&J; sandwiches, and fruit. Candy such as M&Ms; and other snacks will be available at some stations. Four of these stations are also relay transfer spots and checkpoints where your tag will be scanned and your time recorded. Except for the start, relay teams are responsible for their own transportation to and from each transfer spot. Each Checkpoint has a designated cutoff time; participants must depart the checkpoint by the appointed time or they will be pulled out.
Aid Station
Cume
Miles
AS Delta
Miles
Relay Leg
Miles
Opening
Time
Cutoff
Time
Amenities
Latitude
Longitude
Start (map)
0.0
 
 
6:30 AM
 
41.45113
-79.23535
AS1 Forest Road (map)
8.2
8.2
 
7:30 AM
 
41.38615
-79.21909
AS2 Log Cabin Inn (map)
11.9
3.7
11.9
8:00 AM
10:00 AM
restroom
41.34643
-79.21832
AS3 Fire tower (map)
14.7
2.8
 
8:15 AM
 
toilet-pit
41.32168
-79.21131
AS4 Clarion River (map)
17.7
3.0
 
8:45 AM
 
41.31511
-79.24094
AS5 Moose Drive (map)
22.3
4.6
10.4
9:15 AM
12:45 PM
41.27586
-79.19654
AS6 Summerville Drive (map)
25.4
3.1
 
9:45 AM
 
41.26042
-79.23693
AS7 Frozen Toe Road (map)
30.6
5.2
8.3
10:30 AM
3:00 PM
41.22894
-79.18492
AS8 Route 949 (map)
35.8
5.2
 
11:15 AM
 
toilet-portable
41.18809
-79.19609
AS9 Route 28 (map)
41.5
5.7
10.9
12:00 PM
6:00 PM
toilet-portable
41.11819
-79.19606
AS10 Mount Pleasant Road (map)
44.9
3.4
 
12:15 PM
 
toilet-portable
41.13238
-79.15294
AS11 Coder Road (map)
47.8
2.9
 
12:45 PM
 
toilet-portable
41.14429
-79.11374
Finish (map)
50.5
2.7
9.0
1:00 PM
8:30 PM
bathroom
41.16014
-79.07838

Elevation Profile of the 2014 UltraChallenge
Total Ascending: 4907 ft. Total Descending: 5215 ft.
Finish
All participants will finish back at the Brookville YMCA where food will be provided. Showers are also available for cleanup.
Awards
Awards will be issued to runners as their finishing position becomes official.
Course
The first relay leg (11.9 miles) is 97% trail, 3% dirt road. The second leg (10.4 miles) is 90% trail, 10% paved or dirt road. The third leg (8.3 miles) is 80% trail, 20% paved or dirt road. The fourth leg (10.9 miles) is 30% trail, 70% paved or dirt road. The final leg (8.8 miles) is 15% paved roads, 85% rail-trail (a crushed limestone surface) including five railroad bridges over the Redbank creek.
Overall, the trail surface is mostly single-track which can include rocks, roots, sticks, humps, and holes, except in portions of Cook Forest where it's been widened and smoothed.
At mile 31, there is a twin-cable bridge across Mill Creek. The creek is usually shallow enough at this point that you can walk across, but if you want to keep your shoes dry, you'll need to use the bridge.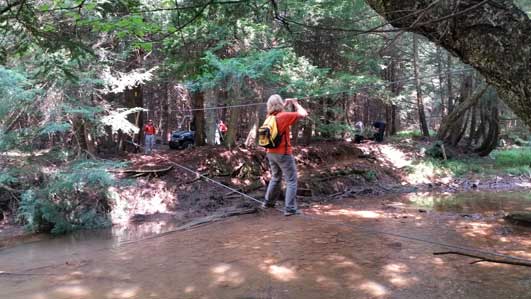 Mill Creek cable bridge
Along paved roads at critical turns, the course will be marked with Baker Ultra painting on the road in addition to the blazes. In the woods and along forest roads, you'll find the standard yellow blazing. Note in Cook Forest, the Baker Trail shares its blazes with the blue-blazed North Country Trail. There you'll find the top half of each blaze is blue and the bottom half is yellow. Where the Baker Trail and North Country Trail diverge, you'll see Baker Ultra signs directing you.
On the final leg from AS9 to the Finish, the course will be marked with Baker Ultra signs and painting along the roads.
Course Map
A map of the course is here (9MB PDF). Right-click and choose Save As to download it to your local storage. It's vector format and thus can be printed on any size paper, the larger the better. Recent versions of Adobe Acrobat Reader offer a Poster feature that prints a single page across several sheets which increases legibility. Copies of this map will be available at check-in.
Drop Bags
You may leave bags or gear at the YMCA in the morning for pickup and use when you arrive there upon finishing. Also, you may have a bag delivered to any Checkpoint (AS 2, AS 5, AS 7, AS 9), and you may drop off gear, clothing, etc. at any aid station (plastic bags will be available). Everything will be brought back to the YMCA when the aid station closes. Be sure to label everything with your name and ID number.
Rules
Please adhere to these rules or risk disqualification:
Runners must check-in at the start of the race, at each of the checkpoints, and the finish line.
Runners must depart the checkpoint by the designated cutoff time. However, runners will be permitted to miss one of the first three cutoff times, provided it is by less than 30 minutes. Exceptions to this rule may be granted during the race and are solely at the discretion of the Race Director.
Runners are not permitted to obtain any outside assistance. If a runner leaves the course for any reason (including getting lost), they must return to the course by their own power at the point they left it.
At all times, only one member of each relay team may be on the course. Relay members must turn in their tag when they finish their leg.
Pacers are not permitted for relay runners.
Pacers are permitted for individual runners beginning at AS7 Frozen Toe Road (mile 30.4). Pacers may not carry food, drink, or gear for the runner or provide any other assistance. Pacers are permitted to consume aid station food and drink. Runners are permitted one pacer at a time, and pacers must be at least 18.
Support crews may meet their runner anywhere along the course, but must not impede traffic. Crews must not park or operate (a) on private property without permission from the property owner, nor (b) in an unsafe manner or location. Runners are responsible for the conduct of their support crew.
Transportation
There is no shuttle service to the Checkpoints! Relay teams must provide their own transportation. If you drop out at an aid station and cannot arrange your own ride, the volunteers will do their best to assist you in securing transportation. However, you will almost certainly be required to wait, perhaps for several hours, for someone to take you. If you drop out between aid stations, you will need to find transportation yourself.
ID Tags
If you drop out and don't make it to the finish, please give your ID tag to a Marshal. If you do not return your tag you will be charged a $5 replacement fee.
Advisories
Hydrate, hydrate, hydrate. Drink lots of liquid in small amounts at a steady, frequent rate. You should be carrying at least two quarts.
Water, sport drinks, and snacks will be available at each aid station.
Wear a hat and use a high-SPF sunblock. You'll be outside all day.
Watch the weather forecast closely to know what gear to bring; the UltraChallenge will happen rain or shine.
Stay on the trail!
Backtrack to find the last trail blaze and reassess your direction if you haven't seen a blaze in a hundred yards or so, as you may have missed a turn.
Respect private property! Much of the Baker Trail crosses privately owned land and the owners graciously allow us there; do not impose upon any landowner you may encounter.
Clean up any trash you bring and any you encounter along the way. There are trash receptacles at each checkpoint.
Stop if you feel sick!
Check in at each checkpoint. This is how we keep track of you! You must have a time recorded at the start and every checkpoint or your finish time will be disqualified.
Volunteers
We'll need quite a few volunteers to help us stage the UltraChallenge. Please cajole and/or coerce your friends, relatives and co-workers into helping! Review the Volunteer Roles and Responsibilities and mark the meeting date on your calendar!