Event Information
Baker Trail UltraChallenge 2010
Overview
The sixth annual Baker Trail UltraChallenge will take place on Saturday August 28, 2010.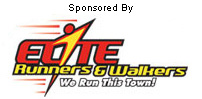 The UltraChallenge is a 50-mile ultramarathon on the Baker Trail. Unlike the Rachel Carson Trail Challenge, this is a footrace; the "challenge" is for you or your relay team to win, or at least finish in 14 hours or less! This year, the UltraChallenge starts in Schenley, PA at 6:30 AM. Runners will follow the Baker Trail north for 51 miles to Smicksburg and end at a private farm. The deadline for finishing is 8:30 PM.
Relay Teams
If you're a runner looking to join a relay team, check out the Relay Team Organizer page.
Participant Information
Important event details and other information for participants is here.
Shirts & Awards
Individual registrants will receive a long-sleeve technical fiber shirt. All relay team members will receive a short-sleeve t-shirt.
All individual finishers will receive the first piece of a unique three-piece medal (a different piece will be awarded in each of the subsequent two years for the central and southern sections). All relay team members will receive a special relay medal. Trophies will be awarded for:
First, second, and third place male, female, and overall finishers
First place Masters (age 40+) male, female, and overall finishers
First place relay team male, female, coed, and overall finishers
Registration

Advance registrations may only be submitted online, via active.com. Click here to register! We are accepting up to 300 registrations this year. Note that advance registrations will be accepted through August 25 and are non-refundable and non-transferable.
For one day only we'll be accepting advance registrations via cash or check at our Annual Public Meeting on Saturday, May 15. Registration forms will be available at the meeting for you to fill out and payment must be made there.
Lodging
There are no hotels near registration. You may sleep at the private farm in a tent, the barn (no livestock), the house, or your vehicle.
Volunteers
The UltraChallenge needs volunteers! We will need people throughout the day, from morning registration to checkpoints along the course and the finish. People can volunteer for as few as two hours. If you'd like to help out, email your name and phone to volunteer2@rachelcarsontrails.org. What's in it for a volunteer? As a thank-you, all volunteers receive a coveted Marshal t-shirt and the gratitude of hundreds of strangers!