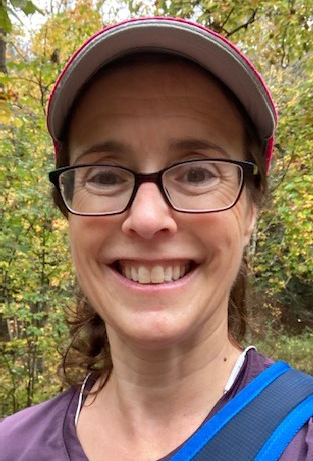 Describe your background, interests, and vocation.
Most of my career has focused in the nonprofit sector. I am an experienced manager and consultant with a background in finance, project management, planning, budgeting, and market research. After years working in health insurance I followed my heart and left to find work in a "real" nonprofit, landing at the Audubon Society of Western Pennsylvania where I am responsible for the organization's accounting, financial management, and general administration. I am dedicated to community service and always have volunteer activities going on. My hobbies include hiking, cycling, camping, and backpacking.
Why would you like to be on the RCTC Board?
The outdoors is my happy place – I love being active outside and bringing others out to share in the fun. Having the Rachel Carson Trail (and other trails) within a couple miles of my house is one of the best things about living where I do. I think everyone should be able to walk out their front door and go for a hike in the woods, and Rachel Carson Trails Conservancy has made that a reality for more people in the North Hills and Allegheny Valley than any other organization I know. It's a massive project that's constantly changing and improving, and I want to be part of the action.
What makes you a good addition to the RCTC Board?
I've been an active participant in RCTC events and volunteer projects since 2018. I haven't attempted a Challenge, but for the last two Challenges I've worked the entire event as a logistics volunteer. I'm always looking for ways to be useful and active in volunteering and in life, so when I joined the RCTC Board in 2019 I immediately offered to be the Recording Secretary. Since then I've made sure the minutes are housed in a Google Drive folder that's accessible to the entire Board. I've been President of the RCTC Board for one year and focused on keeping meetings on track and efficient. In addition to RCTC, I have formal Board experience – I currently serve as a Trustee for the Community College of Allegheny County and as a Council Member for Fox Chapel Borough. I've also volunteered for Allegheny Rivertrail Park, the Boy Scouts, and I was PTO Treasurer for five years.