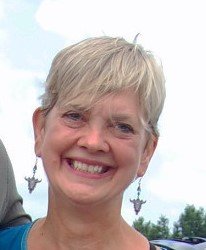 Describe your background, interests, and vocation.
I have been a volunteer with RCTC since 2005. As a journalist, I have used my experience to help promote the RCTC and to write about various aspects of the Conservancy and the Challenge. I also used my background in grant writing in formulating a proposal for the RCTC Geotrail. My experience as a professor has helped me when we have done outreach and presentation activities to promote RCTC and the Challenge. 
I am a lifelong outdoor enthusiast and remember well my first camping trip at the age of five. Despite the fact that I suffered a broken foot on that trip, I have camped, hiked, kayaked, and have enjoyed nature since that time. My travel has included 49 states and several foreign countries where I have been lucky enough to hike, bike, snorkel, swim, and other activities. I have hiked the Challenge four times; the Homestead Challenge twice and assisted in the event in years that I did not hike.
One of my goals throughout my entire life has been to share my love of the outdoors with others and the RCTC has allowed me to do just that. 
Why would you like to be on the RCTC Board?
I have been a volunteer with the RCTC since 2005 when I wrote the synopsis of the Challenge for the website. Shortly thereafter, I joined the Promotions Committee and have been a volunteer since. I believe in the RCTC's commitment to preserve our trails and to introduce people to trails and outdoors. This is particularly important for our younger generations because they are the stewards of the trails and nature of the future.
What makes you a good addition to the RCTC Board?
As I mentioned above, I have been a volunteer of RCTC since 2005. My biggest role has been as a member of the Promotions and Planning Committee. 
As a member, I have promoted the trail and Challenge in a variety of ways which have resulted in: a first-hand account in the Pittsburgh Post-Gazette of hiking the Challenge; a spot on KDKA Today Live to promote the 20th Challenge anniversary; and an article in Pittsburgh Magazine this past summer, just to name a few. Several of these articles, I have written myself. 
Other activities include: serving on the planning committee for the 20th Challenge anniversary; helping to plan the Challenge and Baker events each year; assisting to locate and recruit sponsors for the events; serving as a volunteer for the Challenge; presenting talks at REI and 3 Rivers Outdoor Company about preparing for the Challenge (present with my husband, Paul Sauers) and planning other events such as the annual meetings. Additionally, my husband, Paul Sauers, and I created and implemented the RCTC Geotrail and now oversee the maintenance and coin awards.
I have completed the Full Challenge four times and the Homestead Challenge twice, most recently in 2019.