Volunteer Opportunities for this Saturday
We have a few more slots to fill!
Saturday, June 23, is our annual Rachel Carson Trail Challenge.  We have some vital volunteer roles that are still up for grabs. Please consider helping out! You'll get a very cool (special edition!) Rachel Carson T-shirt and Karma points for volunteering. Here's what we need:
1. One more person to fulfill the most important role: Logistics Aid!  What the heck is a Logistics Aid? Logistics Aids start early on Saturday morning and travel to each aid station (by truck) and unload the necessary supplies for each checkpoint / aid station. At the end of the day, the logistics aids travel back to the aid stations and load up what's left. Sound like something you're up for? Email Steve for more information or to officially sign up for the job! sgmentzer@yahoo.com
2. Traffic Marshals are needed in the wee hours of the morning on Saturday (3:45 a.m.!) at North Park to ensure cars are parking in the correct location. Same as above... email Steve if you think you're up for it or to get more information. sgmentzer@yahoo.com
Lower Priority, but still available:
1. The day AFTER the Challenge.... Sunday 6/24,  11:30 a.m. to 3:00 p.m. - unload logistics trucks, clean and dry coolers, tables, etc 
2. For all Challenge-day volunteer activities, go to our Registration page, and then click on the Volunteer button. There are still some slots open!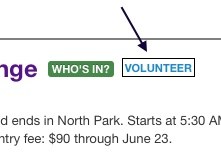 Questions related to volunteering? Ask Donna Stolz