The 2018 Winter Hike
Over 60 individuals (and several dogs) showed up for our Annual Winter Hike on Sunday, February 4th.
MaryAnn Brendel was our raffle winner! She will receive a complimentary entry to the 2018 RCTC Challenge!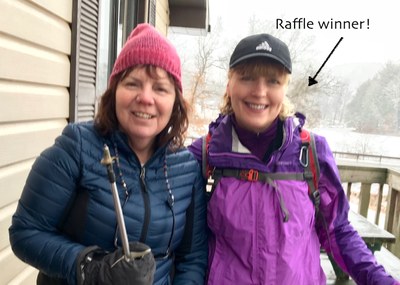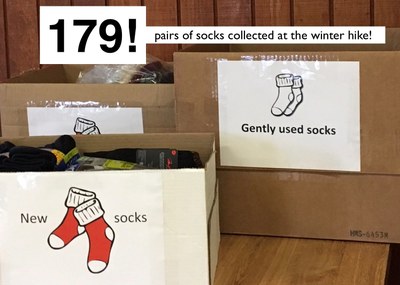 Volunteer Coordinator, Donna Stolz:  With today's Annual Deep Winter Hike, we started a new chapter. The gathering point and finish was The Cabin instead of the primitive Beaver Shelter. Suggested by Mark Eyerman, it was a fabulous idea that we will continue in the future! Warmth, electricity and bathrooms!  It allowed us to offer some delicious food: soup made by Mark, chili made by Rhett Landry, hot dogs and grilled cheese, washed down by hot cocoa, tea, coffee, water or pop. There were some yummy cookies made by Patty Brunner and Steve Mentzer.  A big shout out to Tirzah Griffin for helping at the finish today. We had about 63 people sign in. The most remarkable response, however, was to our sock drive for the homeless. The RCTC community is truly caring and generous! We collected 179 pairs of new and gently used socks. Thank you, Kathleen Ganster and Paul Sauers for collecting and managing the influx of socks! We were honored to have two Allegheny County Park Rangers join us today. They were blown away by the the enthusiasm shown by the RCTC and hikers and hope to partner with us on many more topic-specific hikes in the future. Check the website to stay informed!