We dedicate the bridge to Marian Crossman
Marian Crossman is a tireless trail steward, environmentalist, volunteer and a current RCTC board member.
Update: On Saturday, October 27th, at 2:00 p.m. we will be having a bridge dedication ceremony. Please join us! 
Months of planning, a weekend of execution and an army of dedicated volunteers brings us to the culmination of the bridge construction project! We are proud and excited to announce that the bridge will be named after Marian Crossman, a tremendous person, trail steward, board member and tireless volunteer.
Marian Crossman, a former second-grade teacher at Fox Chapel Country Day School, was born in 1930 in upstate New York. She developed a love for the outdoors during her college years, studying education at Syracuse University. She was an active member of the Outing Club while studying at Syracuse. Marian, with her husband Dave and two young daughters, moved to Pittsburgh in 1967. She was involved with the North Area Environmental Council (NAEC) from its inception in 1969, serving as secretary, and taking care of the bulk mailing of newsletters for many years. She also worked with early collections of recyclables with Group for Recycling in Pennsylvania. During this time she also served a three-year term on the Ross Park Planning Commission. She volunteered with the Audubon Society membership and handled the mailings for decades as well. Marian managed the NAEC tree seedling sale fundraiser for years and years, and was very happy when some younger volunteers took over that effort.
Marian has a rich history with the Rachel Carson Trails Conservancy.  She was a founding member of the Harmony Trail Committee, a group formed from the NAEC. The Harmony Trail Committee eventually merged with the people who maintained the Rachel Carson Trail and the Baker Trail.  The new group is now called the Rachel Carson Trails Conservancy (RCTC).  Marian is the longest serving active member.  She was instrumental in developing the Vestal Trail which is now maintained by McCandless Township. The Harmony trail seems to have earned the largest amount of her attention.  For years Marian and David kept the trail on the far side of the stream mowed.  Marian is instantly recognizable to the many regular users of the Harmony trail as the woman that is frequently there cleaning up the trail and pulling out invasive plants that are a threat to the beauty of the valley.  When the RCTC formed a sub committee in 2016 to focus on the Harmony Trail, Marian was again a founding member.  The Bridge Project was an outcome from that committee. 
Rachel Carson Trails Conservancy is both thankful and proud to have Marian Crossman on the RCTC Board of Directors.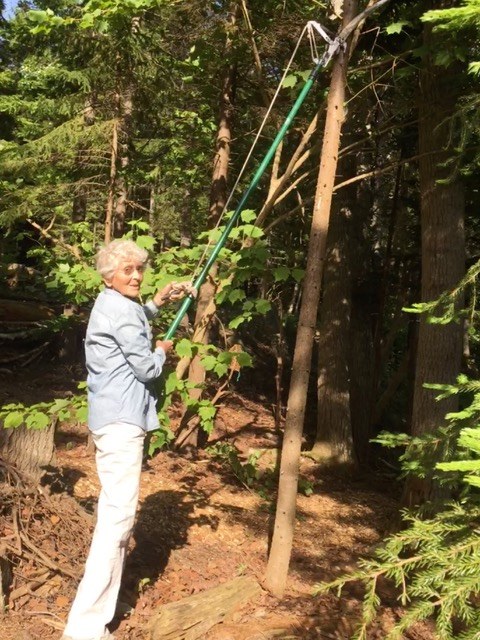 Key Links 
Pictures from the bridge construction project 
Directions to the Harmony trail head on Rt 910 in Wexford. 
Directions to the RCTC trail head on Brooktree Rd which connects to the Harmony Trail via the new bridge.